Control of home appliances
The vision of future houses equipped with programmable cookers, washing machines, refrigerators and dishwashers that can be controlled from any place and at any time, is being turned into reality by the SMARTech system. Bosch and Siemens manufacture home appliances compatible with the KNX bus. This is state-of-the-art, modern equipment. These appliances can i. e. contact the service by themselves when they register a malfunction.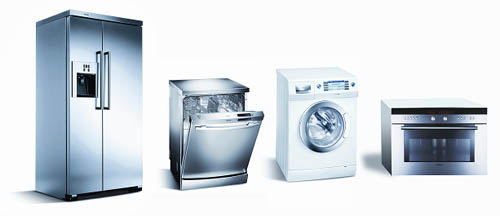 Electric cookers. Thanks to the KNX bus it is possible e. g. to program the cooker so that it executes a programmed operation at a given time. The work can be controlled via the computer while we are at the office. The programme itself can be read off of a DVD cookbook, or off the net. Recipes are automatically computed for the appropriate number of people. Animations on the computer screen and panel help with the food preparation.
Refrigerators. Refrigerators working with the KNX bus sport both a freezer and a refrigerating area, which itself has four separate cooling zones. The status of each of them is displayed and can be controlled via the LCD or a computer screen. Thanks to this one can e. g. remotely defrost the products that will later be required to prepare dinner by calling in from the office. In the event of failure the system will automatically notify the user, so that he can take action.
Washing machines and dish washers. These devices can also be fully controlled from any given place. Switching on or off, or cycle selection, everything can be done by the system. This can help us save money and energy by washing at times when the energy is cheaper.